New Features, speakers highlight the Ultimate Sport Show-Grand Rapids
By editor on Mar 16, 2015 | In Showspan, Ultimate Sport Show

The Ironjack Timber Team and Wicked Tuna's Dave Carraro are Featured at Michigan's Longest Running Sport Show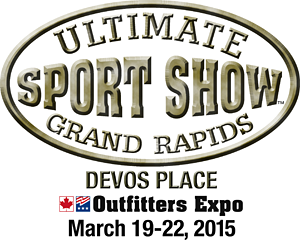 The 2015 Ultimate Sport Show Grand Rapids runs Thursday, March 19 through Sunday, March 22 at DeVos Place.
GRAND RAPIDS, MICH. — Nail-biting lumberjack competitions and breathtaking tales about catching elusive 600-pound bluefin tuna in the North Atlantic are two of the featured activities new to the 70th annual Ultimate Sport Show, March 19 to 23 at DeVos Place, 303 Monroe Avenue NW in downtown Grand Rapids.
"I can't wait for this year's Ultimate Sport Show to get started. We've got an exciting lineup of featured attractions and celebrity seminar leaders that are sure to entertain and educate the crowds," Show Manager Ben Nielsen said. "The Lumberjacks will keep you on the edge of your seat and our all-star lineup of seminar speakers is second to none. Family fun combined with opportunities for hardcore hunters and fishermen to get expert advice or purchase the newest gear makes the Ultimate Sport Show the best show in the state."
The Ironjack Traveling Lumberjack Show rolls into town for all four days of the show. From log rolling and speed climbing to axe throwing and springboard chopping, these "axe-citing" performances keep show patrons hovering on the edge of their seats.
Dave Carraro from National Geographic's hit show Wicked Tuna appears at the 2015 Ultimate Sport Show Grand Rapids. Photo Credit: Showspan
National Geographic landed a lunker in 2012 when it introduced the reality TV show Wicked Tuna ­­- about commercial fishermen chasing huge Atlantic Bluefin Tuna up and down the east coast. Capt Dave Carraro is one of the most respected and knowledgeable fishermen in the North Atlantic with 32 years of experience catching these giant fish. In fact, he has landed eight giants that weighed over 1,000 pounds. Capt. Carraro will share his experiences and close calls with show patrons on Thursday and Friday.
Ever dream about taking a trip to Alaska? Seminar leader David Rose has. The Michigan resident turned his dream into reality two years ago when he spent three weeks exploring the natural beauty and wonder of our 49th state. Patrons of the Ultimate Sport Show can relive Dave's trip and pick up valuable tips about features you won't want to miss on your trip to American's last frontier.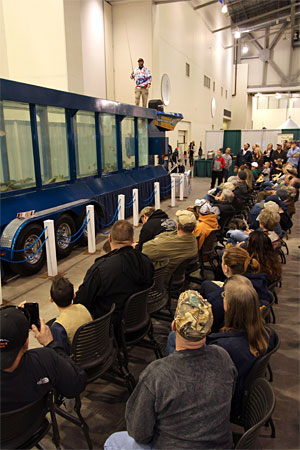 The popular Hawg Trough returns to the 2015 Ultimate Sport Show Grand Rapids for action seminars with real live bass going after seminar leader presentations. Photo Credit: Showspan
There are more new and exciting features to explore at the Ultimate Sport Show-Grand Rapids.
Cabela's is hosting a BB gun range so kids attending the show can take a "time out" and partake in a little target practice.
Both Garmin and Johnson Outdoors - makers of some of the best-known outdoor brands - will have manufacturer displays set up at the Ultimate Sport Show. They will be staffed by company experts to answer questions show patrons may have about their newest equipment.
The Ultimate Walleye Clinic and the Ultimate Salmon Clinic, two-hour special Saturday-only events that feature expert advice, "goodie bags" and more, are free this year. In the past these educational opportunities cost $25, but the fee has been waved this year. Space is limited. (Note: There will still be a $25 charge for the Ultimate Bass Clinic on Saturday and the Ultimate Electronics Clinic on Sunday.)
The first 500 attendees on Thursday and Friday receive a free, collectible Dardevle spoon from Eppinger Manufacturing Co. in Dearborn. The first 250 attendees on Saturday and Sunday will receive a K&E Bass Stopper lure from Stopper Lures in Hastings.
The Ultimate Sport Show-Grand Rapids is at DeVos Place March 19 to 22. Show hours are 3 to 9:30 Thursday; 11 to 9:30 Friday; 10 to 9 Saturday and 10 to 5 Sunday.
Admission is $10 for adults, $4 for children ages 6 to 14 and children 5 and under will be admitted free.
The Tony Gates/MSAH Food Drive will take place on Thursday. Bring a minimum of four pounds or six cans or boxes of non-perishable food items to the RV parked in front of DeVos Place and get into the Show FREE. The food will be collected by Michigan Sportsmen Against Hunger volunteers and donated to God's Kitchen and other needy organizations.
Discount coupons are available in the Grand Rapids Press and at Wendy's.
Visit www.UltimateSportShow.com for more information.