By editor on Mar 18, 2014 | In Showspan, Ultimate Sport Show | Send feedback »
Walleye Fishing
Tommy Skarlis, of Waukon, Iowa has won multiple professional walleye tournaments and established a world record for the largest professional walleye tournament record weight of 15 walleyes weighing 138.28 pounds (9.22-pound average.) At the Ultimate Sport Show, the former PWT Angler of the Year will talk about "What's Hot and What's New for Walleyes." Skarlis will also present seminars on how to "Become a Crappie Master."
Mark Romanack is the host of Fishing 411 on the World Fishing Network. Considered one of the nation's leading authorities on walleye fishing and all things trolling, Romanack will help show patrons understand the world of the walleye and teach them open-water techniques to put more fish in the boat.
Mark Martin is "The Original Champ" of the Professional Walleye Tour and remains one of the most respected professional anglers in the country. He is also an instructor with the Fishing Vacation Schools and will share the proven tactics on "How to Catch Walleyes Where Ever You Go."
Capt. Lance Valentine is the founder of Lance Valentine's Walleye 101 and the Fishing Education Center and has helped countless anglers catch more walleyes through his seminars, workshops and educational charters. At the show, Valentine will share the secrets he has uncovered to successfully jig up walleyes in the Detroit River.
Capt. Chip Cartwright is one of the most experienced anglers on the Great Lakes. His family owns Wolverine Tackle, maker of the world-famous Silver Streak Spoons. Cartwright is an accomplished Great Lakes angler for all species and will explain how to "Catch Lake Erie Walleyes from Start to Finish."
Trout and Salmon
Capt. Bill Bale of Best Chance Charters in Saugatuck will share the hottest techniques used on the Great Lakes to catch salmon and trout.
Capt. Jerry Lee is one of the most experienced tournament fishermen on the Great Lakes. Lee will share his vast knowledge of "Understanding Electronics to Catch More Salmon."
Capt. Willis Kerridge owner of Thunderduck Sportfishing Charters consistently catches limits of trout and salmon on the Great Lakes. Kerridge will share tips on "Trolling Lake Michigan for Trout and Salmon."
Capt. Kyle Buck owns and operates Great Lakes Guide Service in Muskegon. He will instruct show patrons on "Salmon Planer Boards 101: Tips and Techniques."
Muskie, Perch, Panfish and More
Richard Holm is the owner of Sea Quest Lures in Portage, Indiana. Holm will give anglers a clear understanding of "Great Lakes Perch Fishing." David Rose will talk about catching perch when fishing pressure is high in "Catching Perch Under Pressure;" Capt. Kevin Backus will detail muskie fishing tactics proven by his grandfather Hall of Famer Homer LeBlanc; Will Schultz will talk about "Michigan Muskie Hunting;" Capt. Mike Pittiglio will share his successful muskie trolling techniques; and Joe Devera will present seminars on "Catching Panfish Spring to Summer."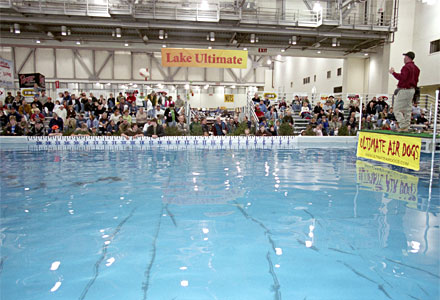 Lake Ultimate is the largest indoor seminar lake in America - hundreds can watch on-the-water seminars throughout the 2014 Ultimate Sport Show Grand Rapids March 20 - 23 at DeVos Place. Photo Credit: Showspan
In addition, Dan Armitage will present fun and informative seminars on "Kid's Fishing Fun;" Jim Bedford will talk about "River Fishing in Depth;" Chase Klinesteker will talk about "Spoonplugging on the Grand River;" Glen Blackwood will give "An Introduction to Fly Fishing;" Frank Willets will give an in-depth presentation on "Fly Fishing the Pere Marquette River;" and Ramsey Dowgiallo will talk about the "Boundary Water Canoe Area Experience."
Hunting
Denny Geurink, host of the Outdoor Adventures TV series, brings his vast hunting knowledge to the Ultimate Sport Show–Grand Rapids. His seminars, "Turkey Hunting in Michigan," provide time-tested tips for novice and veteran gobbler chasers alike.
Seth McCullough is an avid turkey hunter, calling contest champion and the owner and founder of Bully's Wild Turkey Calls. McCullough will provide tips for better hunting and discuss the life cycle of the wild turkey in his informative seminars, "Turkey Hunting and the Life Cycle of the Wild Turkey."
Fred Abbas, of A-Way Hunting Products, ranks No. 1 in Michigan for the number of bucks entered into the record books. Abbas' seminars, "Secrets of Mock Scrapes, The Deadliest Tactic of All," will provide tips for novice and veteran hunters alike.
Tom Richardson hails from Carson City and has been stalking the fields and woodlands of Michigan for 38 years. While honing his skills on the ways of the whitetail, Richardson has developed a successful strategy, which he will share with show patrons on "The Art of Calling Deer."
Paul "Doc" Morrow has been promoting conservation for years and won a Heroes in Conservation Award from Field and Stream Magazine. His seminar "Managing Small Woodlots for Wildlife," will offer some unique ideas on how to improve habitat on your own back-40.
Tim Fox is a professional trainer of pointing dogs and will teach basic techniques for training pointers to heel, come, cast for birds and whoa without using verbal commands. His "gentler" method of training is winning converts all over the country and gun dog owners won't want to miss his seminars, "Set Your Dog Up for Success."
Jason Herbert is an outdoor writer and Bear Archery pro-staffer who has enjoyed great success pursuing his passion in the outdoor industry. His seminar, "Scent Control from the Inside Out," is a must see for hunters trying to beat a whitetail's nose.
High stakes calling competition
Show patrons who hunt turkeys can test their calling skills during the 18th Annual Grand Rapids Open Turkey Calling Competition (Saturday from 5 to 7 pm), sponsored by the Grand Valley Chapter of the NWTF .
Earn your ORV Safety Certificate…in only one afternoon
The Kent County Sheriffs Department offers a free ORV Certification class on Saturday, March 22, from Noon to 5 pm. For details, call (616) 632-6223 or go to www.accesskent.org. Pre-registration is not required, and there is no charge. Participants should check in at the main entrance exhibitor table near the box office. The class will be held in the Third Level Meeting Rooms. After the class, participants can enjoy the show, which is open until 9 pm, free of charge.
For times and more seminar details, go to www.ultimatesportshow.com and click on Seminars.
The first 500 attendees on Thursday and Friday receive a free, collectible Dardevle spoon from Eppinger Manufacturing Co. in Dearborn. The first 250 attendees on Saturday and Sunday will receive a K&E Bass Stopper lure from Stopper Lures in Hastings.
The 2014 Ultimate Sport Show-Grand Rapids is at DeVos Place March 20 to 23. Show hours are 3 to 9:30 pm Thursday; 11 am to 9:30 pm Friday; 10 am to 9 pm Saturday and 10 am to 5 pm Sunday.
Admission is $10 for adults, $4 for children ages 6 to 14 and children 5 and under will be admitted free. Discount coupons are available in the Grand Rapids Press and at Wendy's.
Note: Stop by the GreatLakesBass.com / GreatLakesIceFishing.com booth 1927 while you're at the show this week! You can be a part of the big show by volunteering at the booth!
Pages: 1· 2